Standardized SCIOX Cabinet Solutions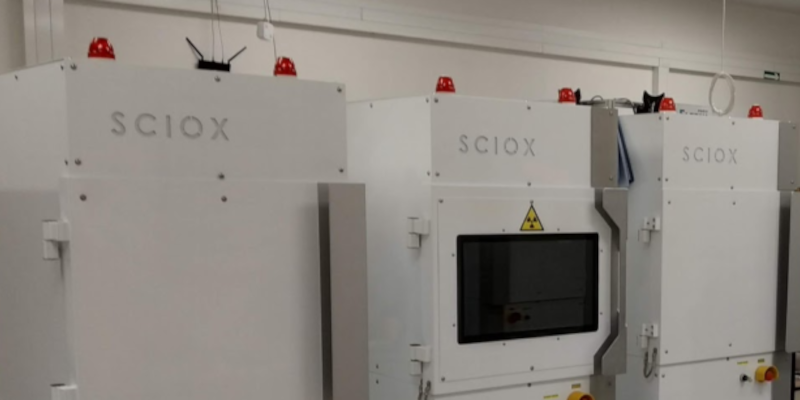 SCIOX Cabinets - serial production of standardized X-ray diagnostic machines not just for industry. It is also possible to extend these devices with additional functions according to your needs, for example automated algorithms for the evaluation of acquired X-ray images.
These devices are suitable for inspection and analysis purposes. They can also be used for directly in the image measuring.
The positioning system can also be used to acquire data for subsequent CT reconstruction to obtain a 3D model of the inspected product sample..
They meet the conditions for a Minor Source, according to Decree No. 422/2016 Coll. as amended. No special requirements for operator or layout space.
This is customized devices according to your requirements. We are able to make a turnkey design for you. Devices are characterized by automatic 24/7 operation without the need the machine operators and can be integrated directly into your existing production line.
We can design these devices with robotic arms or custom manipulators to guarantee 100% automatic operation 24 hours a day, 7 days a week.
Custom X-ray diagnostic service is ready for flexible inspection solution or selection by using X-ray machines. The service is suitable for companies focusing on production of small batch prototypes as well as companies producing huge series.
Every manufacturer has to guarantee the quality. Thanks to our data archiving service, you can also prove the quality of a specific manufactured piece. Images are uniquely marked with the part number (read via QR or barcode) so they can be traced few years after they were taken. The servers are backed up, so you never lose the data and you can prove the quality in case of claims.
For large series inspection, we can flexibly transport the X-ray inspection machine anywhere in the Czech Republic (also abroad by agreement) and together with trained operators we can also provide X-ray inspection on site. Small series inspections are usually carried out to our laboratory in Brno and Prosetín.
Advantages of X-ray inspections
Our place or your site

You can send us your products or you can rent our measure device for 100% quality inspection, during which we check your products by our operator. We are also able to provide labour for this purpose.
Identification and archiving
The code readers (RFID, NFC, barcode, QR, DataMatrix and others) is our system able to uniquely identify products according to the serial number and associate the inspection images with them, including defect evaluation. The quality of the products can be proved during customer complaints.
Smart inspection
Automatic storage, product recognition, inspection and the actual selection and archiving of X-ray images make SCIOX RoboX an intelligent inspection system for manufacturing companies in the electronics, foundry, welding or automotive industries. It helps eliminate the human factor and brings production closer to a fully digitized factory in the spirit of Industry 4.0.
Science, development, laboratories, healthcare



IoT and the Industry 4.0 concept
The devices contain our own software and we are able to manage it remotely via internet connection.
Robotic X-ray inspection is a significant step for the company towards automating the production process and it moves closer to the principles of Industry 4.0. By using product code readers, all images of specific products can be archived - unique traceability and proof of quality. X-ray systems also allow connection to the enterprise information systems or cloud solutions, so the captured data can improve production processes.
The design of the robotic inspection system always respects manufacturing company requirement. The design respects portfolio of the manufacturing products and the defects to be detected.
The X-ray devices meet the conditions for a Minor Source, according to Decree No. 422/2016 Coll. as amended. No special requirements for operators or space.
Advantages of the MIFRE ENERY solution
Mobile system, goes through doors, easy installation
Configuration can be adjusted